Sustainability and entrepreneurship are in our genes
Sustainability is high on the agenda at Wyckaert. We want to do business in a socially responsible way with respect for people and planet. That is why we go beyond our statutory obligations on an ethical, social and environmental level. 
We strive for sustainability in a realistic and balanced way, with the 5 P's: Peace, People, Planet, Prosperity and Partnership as a frame of reference.
And although our engagement is wide-ranging, we realise we still have a long way to go. That is why we want to keep evolving, with full transparency and openness towards our stakeholders. 
How we commit to sustainability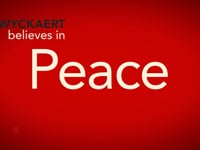 0:40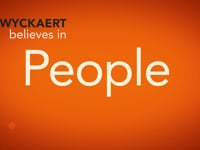 0:37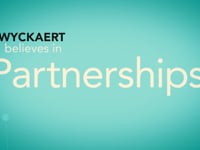 0:38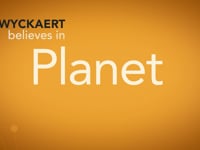 0:41
0:38
At our yard Voortman in Ghent, we recently organized a knowledge-sharing session on the topic of waterproofing for a group of interested colleagues. On the …
Today is World Day for Safety and Health at Work. Themes that are high on the agenda throughout the year at Wyckaert. We are strongly …
The past few weeks have been athletic weeks at Wyckaert! During a session of spinning or yoga, both intense and quiet athletes got their money's …
Sustainability milestones
We invested in battery packs for our sites.
We were awarded the internationally-recognised Unitar certificate from the United Nations for our sustainability activities.
We achieved ISO 45001 certification (safety management system).
We moved into our new sustainable office building equipped with solar panels, a ground source heat pump, green roof, water recovery system, bioswale and 100% green energy.
We invested in electric vehicles and charging points in our carpark.
We achieved ISO 14001 certification (environmental management system).
We organised our first FOCUS teambuilding event.
We received our first Sustainable Entrepreneurship Charter from VOKA and we will continue to do so in the coming years.
Volvo rewarded us with the Volvo Quality Excellence Award for our quality and client focus.
We were awarded VOKA's Environment Charter.
We achieved VCA certification (Health & Safety and Environment checklist for contractors).
We achieved ISO 9001 certification (quality management system).
Electricity consumption in our office building
CO2emissions of our vehicle fleet
Organisation's CO2emissions (scope I + II)
Water consumption in our office building
Sustainability and innovation go hand in hand at Wyckaert
We keep innovating and improving every day. With the aim of creating sustainable added value. Whether it concerns people or machines, products or processes. For example, we invest in technologies that make the building process more efficient and green. And we apply LEAN principles to prevent wastage.
Our sustainability certificates